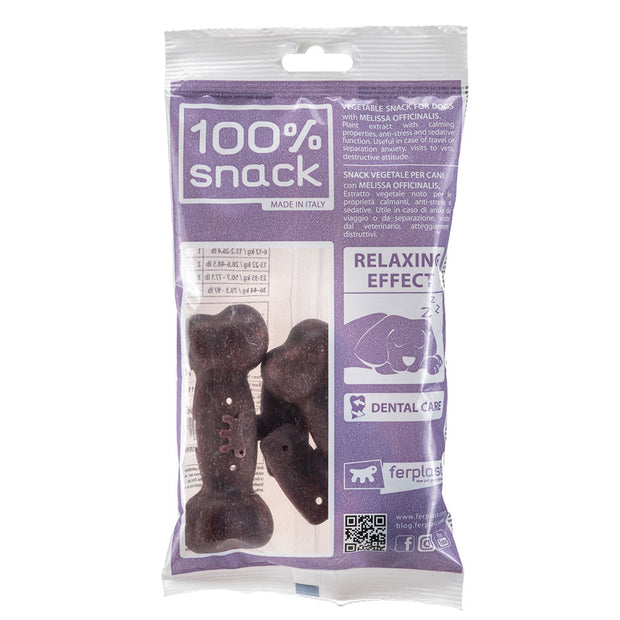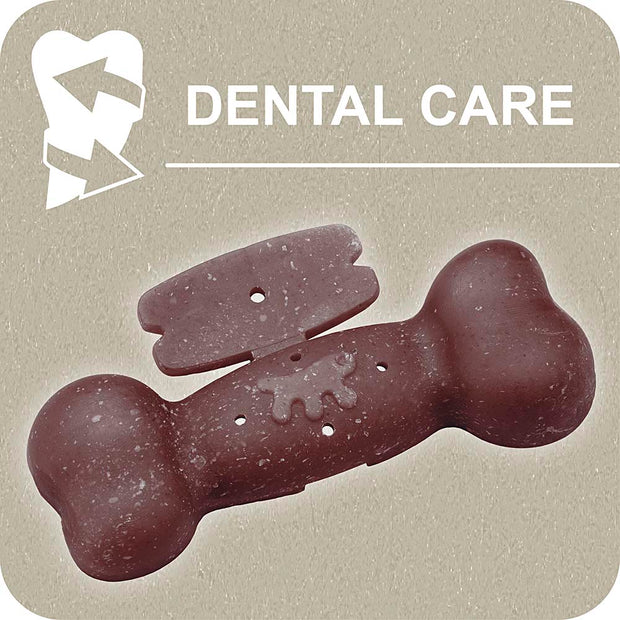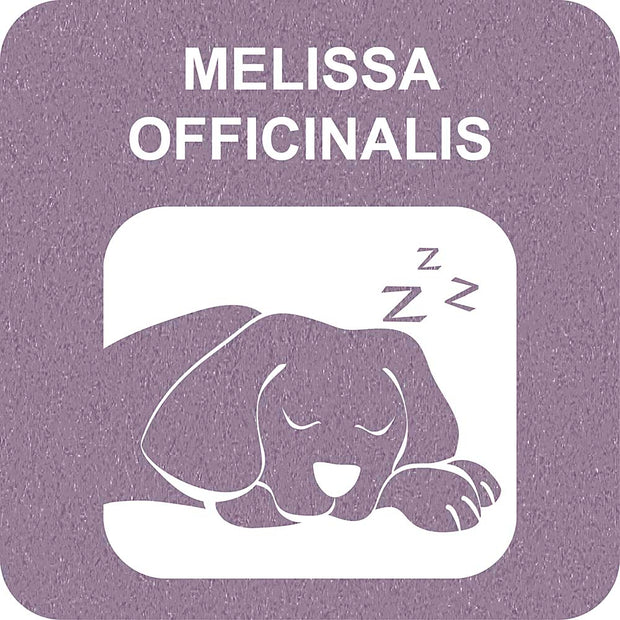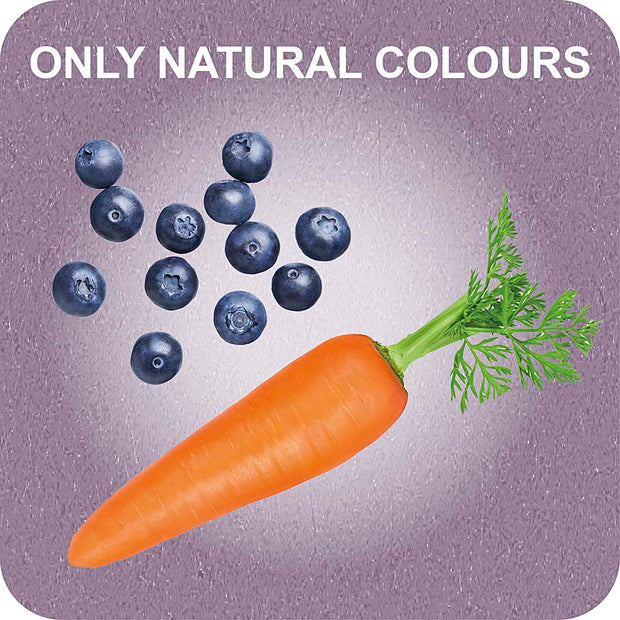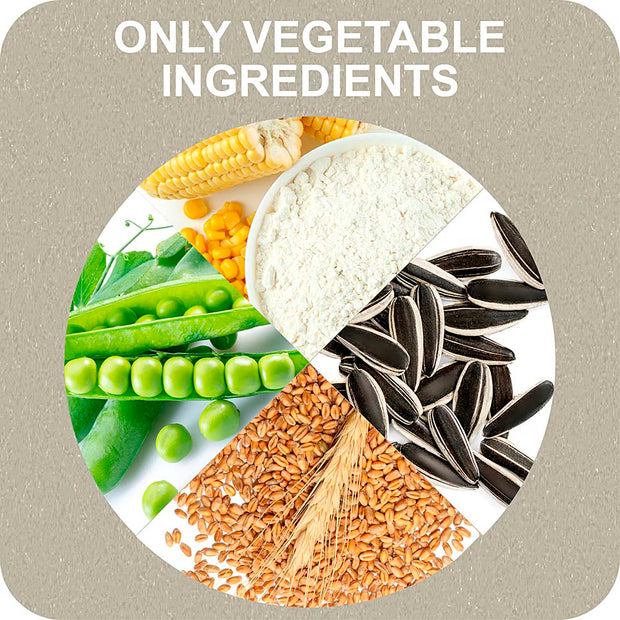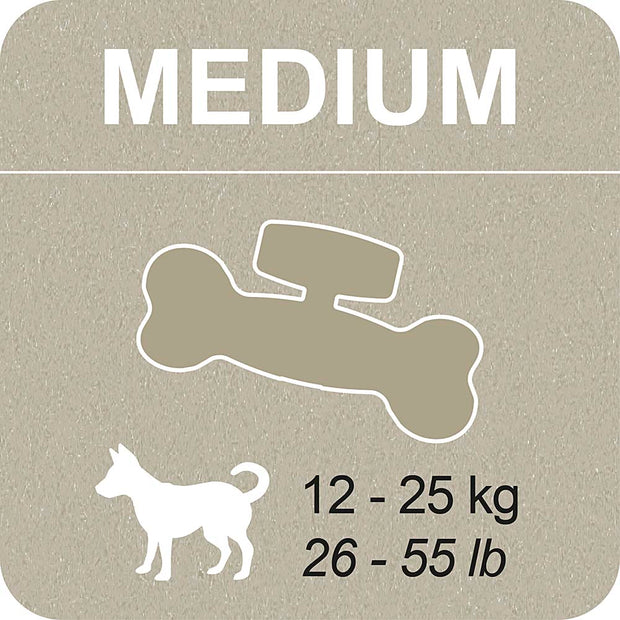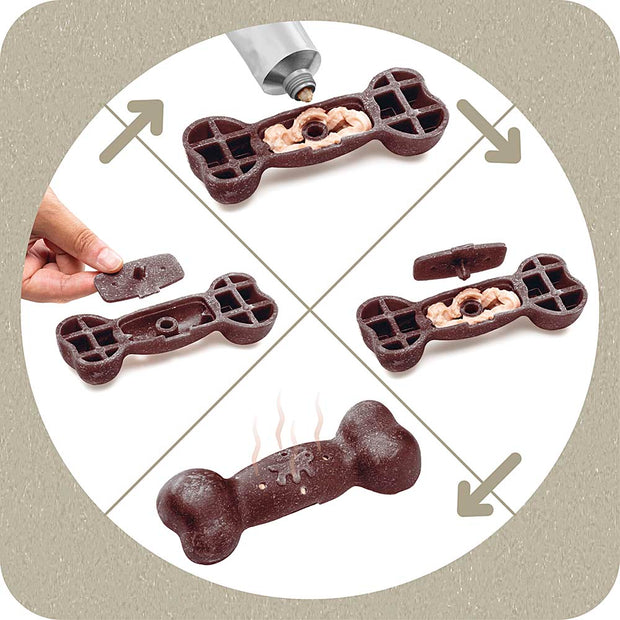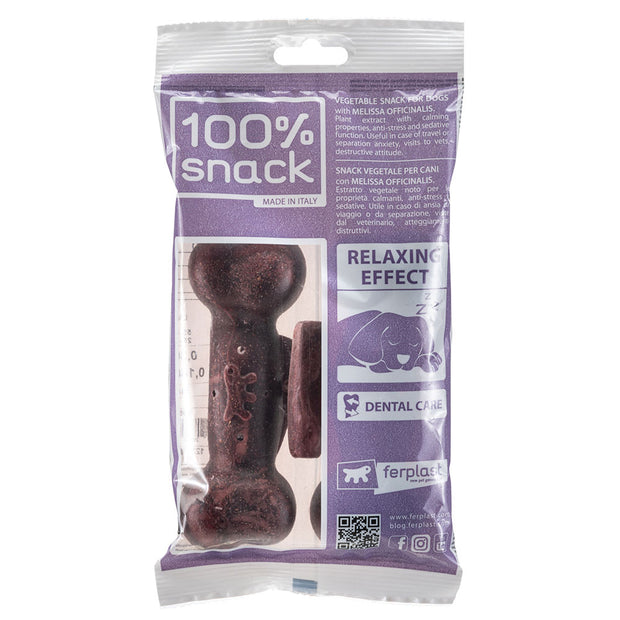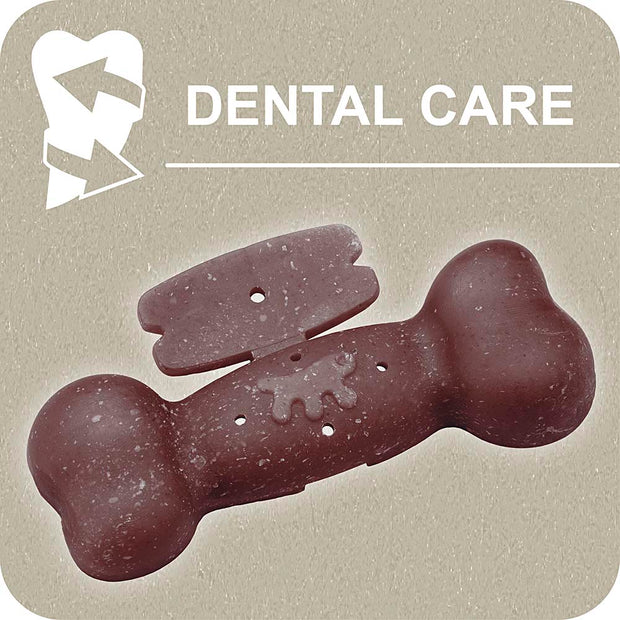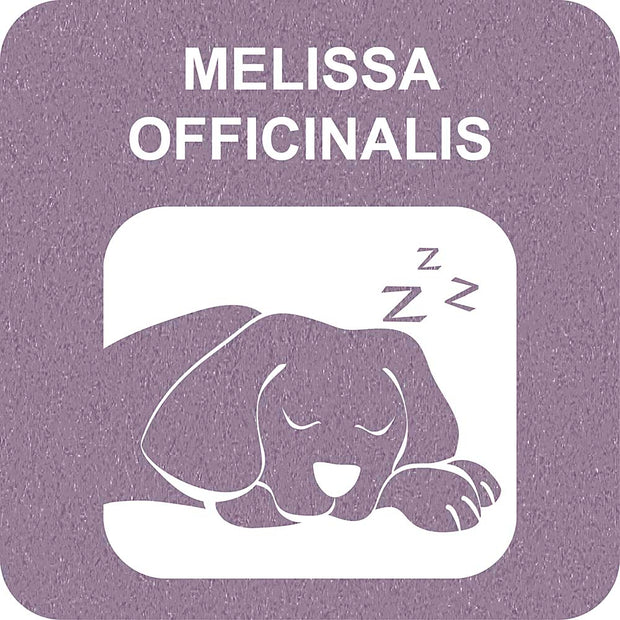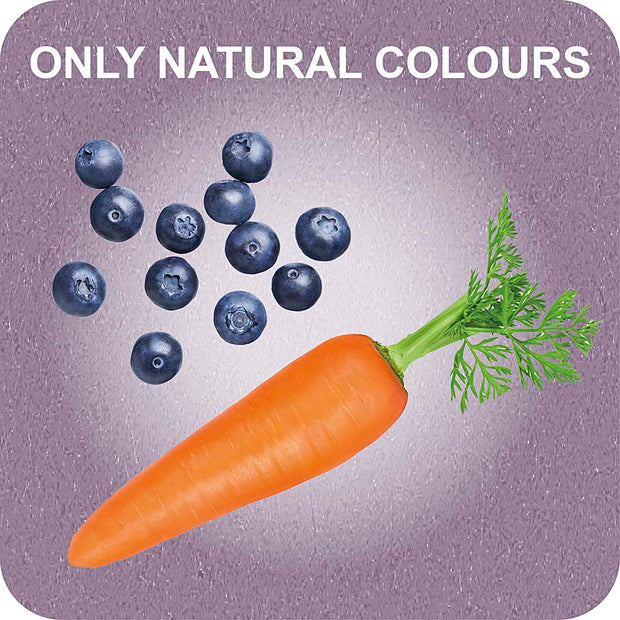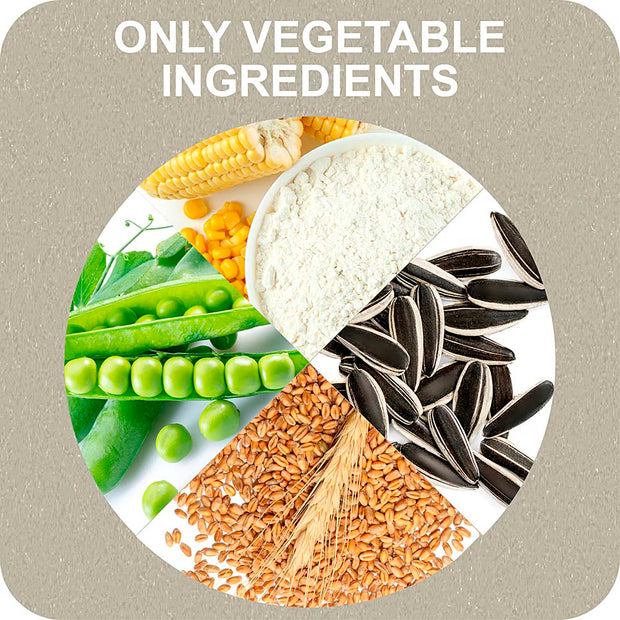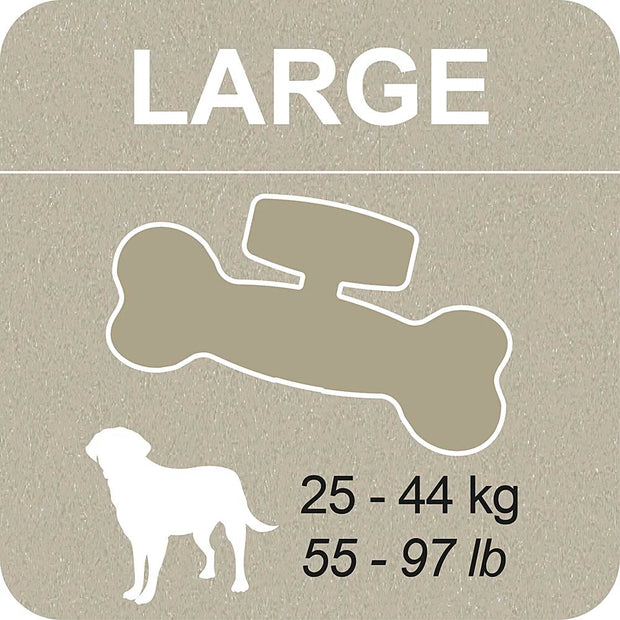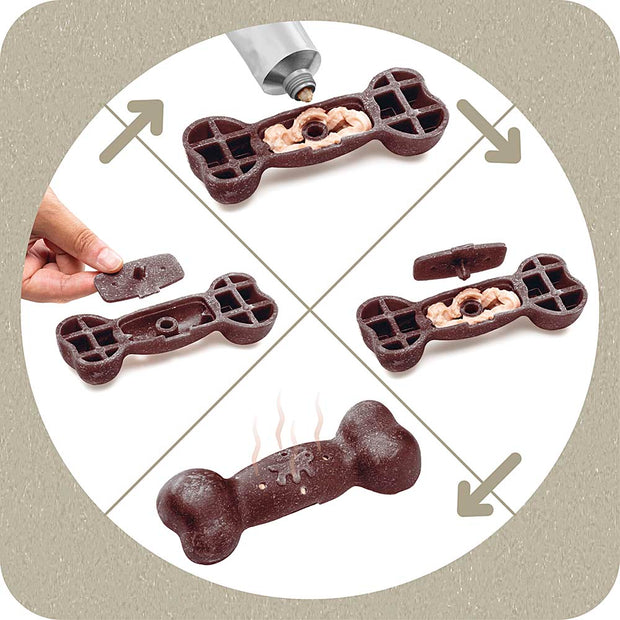 Vegetarian dental snack for dogs, natural and healthy
Promotes dental hygiene thanks to the mechanical action during chewing
Enriched with useful functional ingredients:
Melissa Officinalis: for a relaxing effect, helps reduce anxiety
Useful in case of travel or separation anxiety, visits to vets, destructive attitudes
Fillable with dog toothpaste, pates or other functional pastes for dogs
Innovative shape
Has small holes to allow the aromas to escape making the snack irresistible
Consistency designed to prolong chewing
During chewing, it produces a massaging effect on the gums
Contains only natural ingredients, healthy and appetizing
Much more appetizing than other traditional vegetarian snacks on the market
No artificial colours, only natural colours obtained from plant concentrates: purple from carrot nnd blueberry
It is recommended to use 1 piece per day
Suitable for dogs of at least 9 months
Practical and convenient pouch pack
Different sizes designed to suit chewing depending on the size of the dog
Available in many shapes also including chewing sticks or cute cookies
Package contents:
MEDIUM: 3 pieces of 38 g each, for dogs from 12 to 25 kg
LARGE: 2 pieces of 73 g each, for dogs from 25 to 44 kg
Promote play and fun
Made in Italy
Dental snack also available in versions:
Ascophillum Nodosum Seaweed (green): against bad breath, helps reduce tartar
Yucca Schidigera (red): reduces bad odours in faeces
Euglena Gracilis seaweed (yellow): for intestinal health, it helps maintaining a healthy immune system
Ovopet® (orange): helps joint health, improves mobility
100% Snack by Ferplast is a complete range of vegetarian dental snacks for dogs designed to meet all needs thanks to the innovative shapes and useful functional ingredients. Natural and healthy, these vegetarian snacks for dogs combine many benefits, health and taste in a single product. They ensure dental hygiene thanks to the mechanical action during chewing, are effective in removing plaque and also produce a massaging effect on the gums. But that's not all: 100% snacks are enriched with useful natural functional ingredients such as Melissa Officinalis. Several scientific studies have shown that, by introducing some funcional ingredients in the dog's diet, we can contribute to the normal functioning of their organism by improving their general state of health.
Melissa Officinalis plant extract is known for its calming, anti-stress and sedative properties. With a relaxing effect, it helps reduce anxiety.

They can be used as they are or filled with appetizing dog pates, toothpaste or other functional pastes for dogs. The holes on the lid and on the concave part allow
the aromas to escape making the snack irresistible for your friend.

100% Snack contain only natural ingredients. The colours, also natural, obtained from vegetable concentrates, are used to distinguish and identify the functionality of the snack itself: for the snacks with Melissa Officinalis (relaxing effect), the purple colour is obtained from carrot and blueberry concentrates.

Ingredients Melissa Officinalis (relaxing effect): Corn starch, glycerin, whole wheat flour, cellulose powder, soy lecithin, sunflower oil, carrot and blueberry concentrate juice, pea protein, sodium chloride. Additives: Technological additives: preservatives; Sensory additives: flavourings: Melissa officinalis L. extract (Bluenesse®) 0.5%.
Energy value: 280 Kcal/100 gr.

Analytical components for 100 g: moisture 14%, crude protein 2.7%, crude oils and fats 3.65%, crude fiber 4.15%, crude ash 1.15%.

The fillable snacks are available in kits with different sizes and shapes designed according to the size of the dog: Small for dogs from 5 to 12 Kg, Medium for dogs from 12 to 25 Kg, Large for dogs from 25 to 44 Kg.
The range offers dental snacks for any need: alongside the version with Melissa Officinalis with a relaxing effect (purple), you can also find snacks with Yucca Schidigera to reduce fecal odours (red), Ascophillum Nodosum Seaweed against bad breath (green), Euglena Gracilis Seaweed for intestinal health (yellow) and Ovopet® which helps joint health (orange).